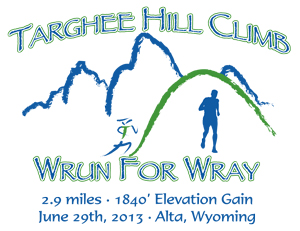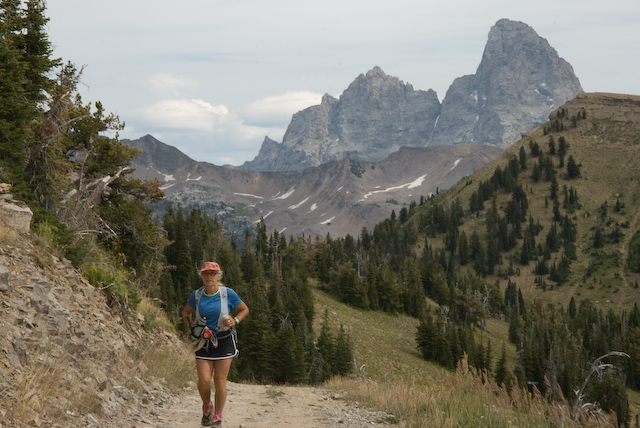 WHEN: Saturday, TBA 2016 @ 10am
WHERE: Grand Targhee Resort – Alta, WY
ENTRY FEES: $20 (by June 28); $25 on day of event
Part of the "RUN TO THE SUMMIT SERIES" The 2016 Targhee Hill Climb – Wrun For Wray, is part of the Run To The Summit Series, which includes the Snow King Hill Climb  and the Rendezvous Mountain Hill Climb at the Jackson Hole Mountain Resort . Competitors who complete all three Hill Climb events, for a total of 12+ miles and over 7,500 feet of climbing, will be eligible for overall awards and a raffle with special prizes.
Targhee Hill Climb Course Description:The 2.9 mile uphill run starts at the base of the Dreamcatcher chairlift and climbs 1840′ to the top of Fred's Mountain.  Following the single-track Bannock Trail, (or the Teton Vista Traverse if snow pack is an issue), the course will feature a water station at roughly 1 mile and at the Finish Line.
IMPORTANT:
every competitor should plan on carrying a water bottle or hydration system as the trail is exposed, steep, rocky and is entirely at altitude (8,000 – 10,000 ft). Additionally, the weather can be warm (or extremely cold)!Competitors can send extra clothing to the top of the lift with race officials and ride the Dreamcatcher chairlift down after crossing the finish line.
REGISTRATION

CLICK HERE
to register on-line registration.  Race premiums are guaranteed to those who register before 6/1/16; since this event is a fundraiser, only a limited number of premiums are ordered.Race day registration will be available on the Plaza at Grand Targhee Resort from 8:30am-9:30am (but, as mentioned above, a limited number of race giveaways are produced each year so please do not be upset is none are available during race day registration).
Proceeds benefit the Wray Landon Legacy Foundation at the Teton Regional Land Trust.

**Stick around Grand Targhee after the race and enjoy mountain biking, hiking, frisbee golf and the Trap Bar.  More information available on www.grandtarghee.com
COURSE MAP: The course starts in front of the Dreamcatcher Chairlift at the base of Grand Targhee Resort and follows the single-track Bannock Trail to the top of Fred's Mountain.  However, snowpack on the trail can force the race to utilize the Teton Vista Traverse Trail.)

2015 Results
2014 Results
BANNOCK TRAIL COURSE RECORDS
Male:                 Luke Nelson  30:37 (2013)
Female:            Julie Bryan  38:34 (2013)
TETON VISTA TRAVERSE COURSE RECORDS
Male:                      Evan Honeyfield   29:12 (2012)
Female:                Julie Bryan             35:23 (2012)
Male Masters:       Brent Peacock      32:03 (2011)
Female Masters:  Julie Bryan            35:23 (2012)