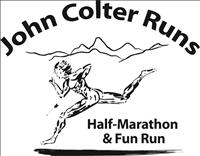 NOTE: Tentatively returning in 2015, stay tuned for more details.
37th Annual John Colter Races
August 3, 2013
The John Colter Run is a Teton Valley community running event that started in 1976. Always scheduled for the first Saturday in August, the courses start and finish in Driggs City Park in the city of Driggs, Idaho.
This year's event also includes a Marathon, Marathon Relay, 10k and 5k option.

Race Start Times
6:30am – Marathon / Marathon Relay
8:00am – Half Marathon
9:00am – 10KM & 5KM & 5K Fun Run
Registration for all events are open!  To register go to the Registration page.
Race day registration will be available, in Driggs City Park, from 6am until 8:30am.  Please note the start times listed above and plan on arriving in advance if you wish to register on the morning of the events.
Packet Pick-Up: available race morning in Driggs City Park starting at 6am (until 8:30am).
Traveling to the Area
The John Colter Races provide a great vacation opportunity in one of the most beautiful destinations in the Western United States: Teton Valley, Idaho!  Teton Valley is nestled between the Big Hole Mountain Range and Teton Mountain Range.  It is located on the 'Yellowstone-Grand Teton Loop' between Jackson Hole (35 minutes) and West Yellowstone (105 minutes).
A paradise for the outdoor enthusiast and adventurer alike, Teton Valley boasts miles of well-maintained hiking and biking trails, or if you prefer, horseback riding.  The Teton River, which flows through the valley, provides the opportunity for world-class fishing, paddle boarding or scenic float trips.  If you are looking for the unique, Teton Valley offers hot air balloon rides, aviation tours and glider flying!
If you are not an outdoor enthusiast but rather enjoy a relaxing vacation, Teton Valley can accommodate you as well!  Considered "the quiet side of the Tetons", you will leave the hustle and bustle of the city life behind.  Enter the tranquility of undeveloped farm land and open meadow areas, and enjoy being pampered at one of the great spa facilities located in the area.
We have created a Stay and Play page to help plan your trip.  This page will guide you to some of our favorite Teton Valley accommodations and activities.  Start planning by clicking HERE.  We can't wait for you to join us in our paradise!
For additional information, please email: info@dreamchaserevents.com