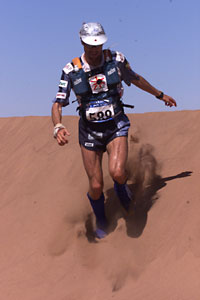 Backpack
There are several packs out there (Osprey, OMM, UltrAspire, Ultimate Direction, Gossamer Gear, Raid Light, WAA and the official MDS pack, among others) that work well. Remember, apart from your running shoes, this is probably the most important piece of equipment that you'll bring with you, so it should be very comfortable on your back! Ideally, you will want to try on the pack and make sure it fits properly.
Since everyone is built differently, you will have to find the one that works best for you, taking into consideration the amount of food, clothing, supplies, etc. that you will be trying to squeeze into the pack on the first day. (Don't forget that the contents of your pack will decrease each day as you consume your food so, you will want to make sure that the pack has the ability to compress easily.)
Some of the packs mentioned above have a bladder (Camelback type) water system option. While this is nice to have, you should keep in mind that it is sometimes a challenge to remove and replace these bladders during the actual race. When your pack is loaded it can be a burden to re-pack a bladder full of water at a checkpoint! We tend to prefer water bottles attached to the shoulder straps (or waist belts) on our packs. It's usually easier to refill a bottle at the check points, and easier to monitor water levels, too. Again, this comes down to personal preference, so experiment as much as possible before April.
Running Shoes
Arguably the most important piece of equipment you will have for the race! You should find a pair of shoes that work well for your particular running style and provide a good, comfortable fit. (It's best to avoid Gore-Tex shoes because your feet will most likely overheat and form blisters very quickly.) Some competitors like to use shoes that are two sizes larger than normal, but we tend to prefer going up a half-size, or possible one size (US or UK sizing) as long as you have enough room in the toe box and the shoes do not feel awkward. Your feet will most likely swell in the heat, but they will not grow in length! This is one area that is difficult to prepare for; it's difficult to experiment with the shoes because you don't know how your feet will respond to the long miles in the incredible heat over the rocky terrain. So, go with what you think will work best.
Which type of running shoe should I wear?
Trail shoes or road shoes?  The terrain is quite rocky and unstable in many spots, but trail shoes are not required.  (Some of the Moroccans wear road shoes but they are used to running over the terrain.)  So, we suggest that you wear what works best for you, but highly recommend some type of gaiter system.
Gaiters
Using the proper gaiters is a crucial part of blister prevention. We suggest choosing a pair and testing them out on your training runs. There are several options available on-line (from MyRaceKit, Raid Light, WAA or the official MDS website) and they should cover the entire perimeter of the shoe and come above the ankle in order to keep out as much sand as possible. Important: the Velcro must cover the entire perimeter of the shoe, where the outsole meets the upper, and be sewed (not glued) on to the shoe. The better you care for your feet during the event, the happier you'll be as the days go by. While there is sand to contest with on the "dune day," you will not be running through deep sand all the time. The terrain will be mostly mixed …sand, rocks, dried up riverbeds, salt flats and sections of rock/gravel.
Sleeping Bag
A good, lightweight sleeping bag is an essential piece of equipment for the MDS. Temperatures will be well over 100F during the day, but in extreme cases can drop to around 35F at night. In our experience, lows around 40F are the norm, however. Please keep in mind that temperature ratings on different sleeping bags vary from company to company, and from person to person. Lightweight (around 1lb) is best because you have to carry the bag in your pack while running for the entire week, but you might sacrifice warmth for the weight. There are several great bags out there … Western Mountaineering, Marmot, Montbell, PHD, Yeti, Rab, etc. One of our favorites is the Western Mountaineering Highlite.  With so many available options, you should be fine with any bag that provides comfort to 35F, but it all depends on how you tend to sleep.
Do we need Sand Goggles? 
Goggles are not required for the event but may come in handy on those extra windy days when the sand is whipping around. You should be able to get by with a pair of 'wrap-around' sunglasses that have a snug fit around the eyes. We have had success using sunglasses made by Wiley-X as they have a foam gasket to keep out the sand. Additionally, Wiley-X offers a Light Adjusting lens option, which comes in handy if there is sandstorm at night. There are many other options available…the key is to go with what works for you.
Do we have access to computer/Internet during the race?
Internet access (wifi) is not available once we reach the first bivaouc. However, at the end of each stage the race organizers provide a tent with computers where competitors can send an email each day. Cellular coverage is sometimes decent in the desert, but it's best not to rely on that as available option. (NOTE: the use of cell phones is not permitted around the bivouac.)
What about Suitcases?
I see that we can take a bag with us to the bivouac area that the race officials will collect during race check-in.
The organizers do transport your extra bag(s) from the bivouac to the post-race hotel, and we have never had a problem with luggage being lost. We suggest that you utilize a lock for your bag(s) regardless of where you leave them.
What city do we fly into/out of in Morocco?
We will rendezvous in Errachidia, Morocco before the race and then travel by bus to the first bivouac (campsite). After the race we are transported, by bus, back to Ouarzazate and assigned a hotel room, which is shared with another competitor. (If you wish to share with a certain person, you can provide that person's name in the registration section of your on-line MDS account.)
Do I need an entry visa to enter Morocco?
Residents of the US, Canada, Australia, New Zealand and the UK do not need to obtain a visa to enter Morocco. To find out if the passport you hold requires an entry visa, please CLICK HERE. There is no departure tax in Morocco.
What currency is used in Morocco?
The official currency of Morocco is the Dirham, but the Euro is widely accepted (however, you may not get a favorable exchange rate from local merchants). Numerous ATMs/Bankcard machines can be found in larger cities (like Errachidia and Ouarzazate) and you can pull cash from those machines. Some businesses do not take credit cards, so it's always a good idea to have some local currency on hand.
Do I need to carry my passport with me during the event?
Yes, you need to carry your passport with you during the race (in case you need to depart due to an emergency). Additionally, every participant will need to carry 200 Euros during the race.
Do I need to bring food to the pre-race bivouac?
No, meals are provided during our stay at the pre-race bivouac (Friday dinner; Saturday breakfast, lunch and dinner). However, you might not like the selections provided, or have certain dietary restrictions, so it is a good idea to have some extra snacks with you for the two days at the bivouac prior to the start of the race.
Is boiling water/hot provided at the campsites?
No, hot water is not provided at the bivouacs. However, the water provided on the course can get quite warm from sitting out in the desert all day. You will be given a minimum of 9 liters of water per day… and if you wish to heat it you will need to bring a stove. If doing so, note that fuel tablets cannot be transported on aircraft, so look into ordering from the MDS website and select the "deliver to the bivouac" option. Be sure to do so early (at least 4-5 weeks ahead of the race). You can pick-up your order at the bivouac on the Saturday before the start of the race.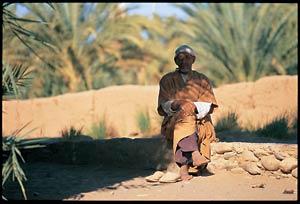 What type of stove should I bring?
We don't use a cook stove, so you are on your own here.  (We put our dehydrated meals in the sun and cook them that way.)  As noted above, please keep in mind that most fuels are not allowed on aircraft, either in checked or carry-on luggage. Fuel tablets can be purchased from the marathondessables.com website and picked up during race check-in once in Morocco. Be sure to place your order early (at least 35 days before the start of the race) and request "bivouac pick-up" as a shipping option.
Can I recharge batteries at the campsites?
NO! Again, you must be self-sufficient for the week. Some participants carry a solar charger for their recharging needs.
Do I need to know how to read a compass?
You should have a basic understanding of how to read a compass. However, about 95% of the course is typically well marked… and numerous footprints (and people) heading in the same direction are usually good signs that you're on course. Here is a good link if you want to brush up on your compass knowledge: www.learn-orienteering.org/old/lesson1.html.
Is it better to carry water bottles or a hydration bladder (Camelback) for the race?
We prefer to carry water bottles for many reasons… here are a few: bottles are easier to fill at the checkpoints, bottles are easier to clean, easier to access and easier to mix drinks in. Additionally, you can run with a sports drink in one bottle and plain water in another (as it's usually better to drink water if your stomach becomes upset) and it's easier to monitor the fluid levels in the bottles. Plus, you usually do not have to remove your pack to access the water bottles. Keep in mind that the newer "soft flask" bottles can rip or tear during the event, so be sure to keep a close eye on those if used for the race.
What should I do if I wear contact lenses?
We suggest that you wear prescription sunglasses (like the Wiley-X mentioned above) and bring along your regular eyeglasses. Why… ? Because you will most likely encounter a sandstorm every day in the Sahara and the amount of sand that gets into your eyes (and everywhere else) is incredible! That, and the dry air, make it problematic for keeping the contacts moist and clean. However, with that being said, some folks do bring a pair of disposable contacts for each day and use 'wrap-around'™ sunglasses or sand goggles to keep the sand out of their eyes. A problem with that is, if the sand is blowing night, you also need to have a set of clear lenses for the glasses/goggles. (This information is from past participants who usually wear contacts.)